A new modification project for The Source -engine.
Developing Team:
Proboxi, Mapping.
$urfer, texturing and Mapping.
Liberty, Programming.
Gameplay:
2-3 Factions are fighting against each other in huge environments with the support of vehicles.
Warzone will support matches of maximum 32 players for now as it's the maximum amount of players what we can support until the server's will get unstable without new programming.
Were hoping to get at least 64 player limit before the first release so no worries, there will be huge battles.
There will be for now only two kind of environments, Town and Countryside maps. More will come before the final release.
Rank system have been confirmed, other "stuff" attached to this haven't been planned yet. Thought something with the rank -system will be almost 100% sure. What would the point for ranking up if you wouldn't get anything from it?
The modification will have Several gamemodes and a few of them are listed below:
- Team Deathmatch
Normal team 1 vs team 2.
- Region Controller ( Not a confirmed name)
The maps have been divided into regions what the teams need to conquer
and control to win the battle.
- Strategic Assaults ( Not a confirmed name)
One of the factions will need to defend their positions against the attacking Faction. The maps have been divided in "Frontlines" what are regions where the main conflicts happen during the game and in here the defending team's forces spawn. When conquered the assaulting Faction will use these spawns to invade the next Frontline. There will be about 3-5 Frontlines in each map and each of them will have 2-3 tasks what the attacking team will need to complete before the Frontline collapses.
I'l tell you an example of these tasks: There are 3 radio towers what are keeping the connection between the defending team and their Headquarters, the assaulting team needs to destroy these radio towers to stop the defending team getting reinforcements and after that, this Frontline have been crushed.
Classes:
Pioneer
Equipment:
Game info:
UPDATE: 16.1.10/01.16.10 ( US )
Just a small update of upcoming map effects:
Snow effect, done with particles:
*New Video 19.8.09*
Teammenu *WIP* ( Not changed, Original Valve Design.)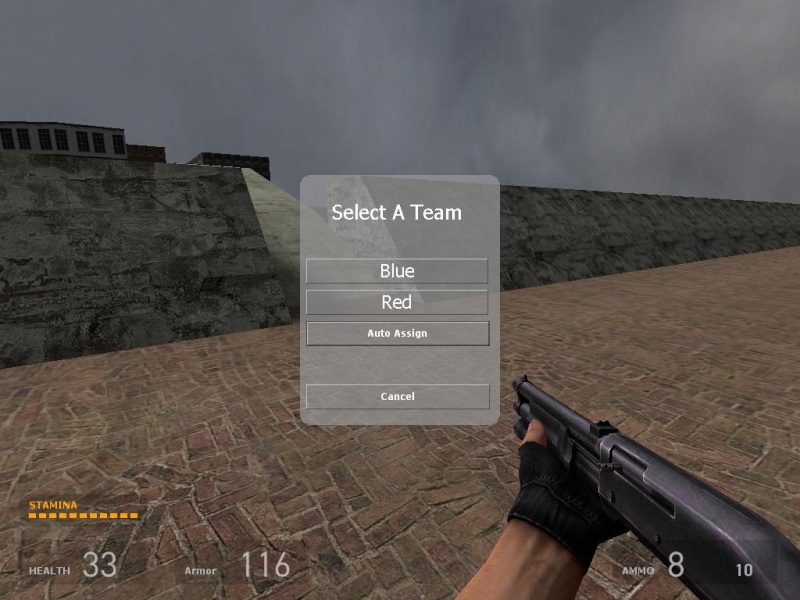 Classmenu *WIP* ( Not changed, Original Valve Design.)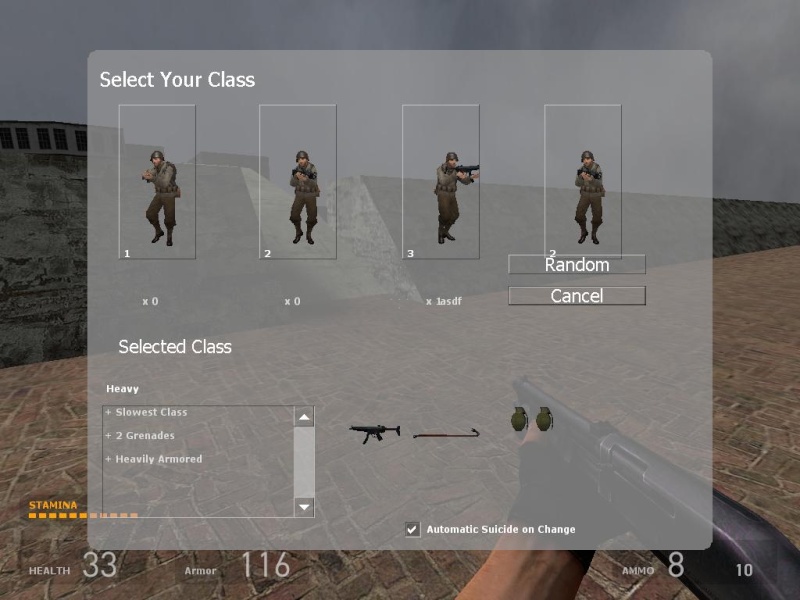 **//Weapons//**
Rifle,
Technical Info:
Feed System:
2-10 -round.
Used by:
Sniper -class, both sides.
Maps:
Dc_streets
( WIP -version, only for gameplay testing.)
Last edited by Liberty on Sun Jan 17, 2010 12:39 am; edited 26 times in total (Reason for editing : Updating when needed)